02 May

SPEAKING ENGAGEMENT: Purposeful CX How to measure the impact of customer centric practices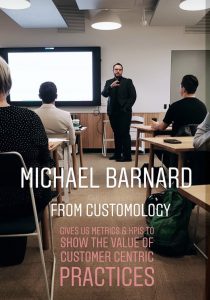 Customology's GM Michael Barnard presented to a room full of CX and marketing professionals at the recent Purposeful CX event on measuring the impact of customer centric practices.
During his presentation, Michael shared techniques on how to effectively measure behavioural trends and insights from customer and transactional data.
Michael also demonstrated how to segment your customers into distinct behavioural cohorts to identify targetable customer groups. This process highlights opportunities to activate the path to repurchase, with the objective of increasing customer loyalty and improving revenue.
If you are interested to learn more about this subject, please feel free to contact us for a personal demonstration.