23 May

The rise of the digital wallet and the potential impact on your customer lifetime value

Many people make the assumption that a digital wallet is predominantly a solution for making transactional payments. Yes, they do have that capability…..but they also have many many more!

A digital wallet is exactly what it says it is – a digital version of your wallet/purse using just your smartphone, instead of carrying a physical wallet with you. Your digital wallet is an app that comes pre-installed on the majority of smartphones. On iPhone it's called Apple Wallet, on Android it's called Pay or Passes.

Think of all of the items you have in your wallet right now – cash, bank cards, membership cards, loyalty cards, tickets – your digital wallet can carry all of those for you in one central hub.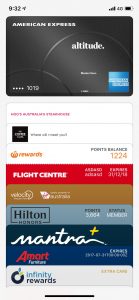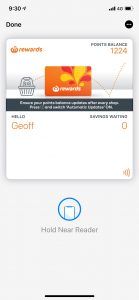 The rise of the digital wallet
Over 253 million people world-wide are currently using Apple Pay. 43% of global iPhone users have enabled Apple Pay, which is up from 36% in September 2018, and 20% in December 2017¹. It will be interesting to see what this figure will rise to later in 2019.
Australian banks are finally responding to customer demands and getting on board with Apple Pay. However, it's not just banks who are having to think about this huge shift in digital behaviour. Brands across the globe have begun to take advantage of this route to the customer.
A new route to the customer
Over 17 million Australians own a smartphone (which means they also have access to a digital wallet). So how can brands take advantage of this route to the customer?
Your first thought may be to build an app. However, an app might not be the best investment for your brand. Let's be honest, mobile real estate is extremely competitive with 77 percent of users never using an app again 72 hours after installing². It just sits unused on the customers phone.
An alternative digital solution to reach this audience is a digital card. Digital cards are more cost effective, yet enable you to deliver hyper-personalised customer experiences. They are stored on a mobile device and provide the ability to heighten customer engagement.
How can a digital card improve your customer lifetime value?
Route to the customer

– Once downloaded, 85% of digital cards are never removed. Bear in mind your average customer only uses 30 apps at any one time.

69% of customers said they are more likely to use a loyalty card if it is on their phone³.

Enables you to connect digital to the in-store experience

– having a seamless presence in both can help your brand stay on top of mind to your customers, whilst attracting new customers too.

Enables you to stay front of mind to customers through geo-location targeting

– your card can show time and location based notifications, so when they're walking past your store you can nudge them with a reminder or incentive. Messages appear on the lock screen of the phone when in proximity. For example, a Pizza chain sends a targeted message to a customer's phone with an offer, at their named closest branch – all they have to do is show the message whilst ordering.

Help you to capture customer data to enhance personalisation

– as we've stated several times before, the more data you have, the more you can understand your customers and deliver enhanced personalised experiences. Once the customer begins to use the card, it captures all of their purchase behaviours and preferences.

Ability to up-sell

– this links back to staying front of mind. You can actively reach out to the customer at specific times when you know the chances of them engaging are higher than normal.
Customology's Head of Engineering, Derek Rogers states "Digital card solutions are great because of their low technical barrier and low cost of ownership ongoing (compared to an app for example). The many different types of cards will meet any brands' customer program needs and provide an additional communication touchpoint for their customers. I believe it should be the default offering when designing your customer retention strategy."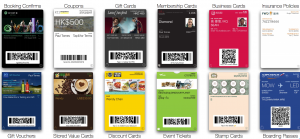 Digital Wallet Examples (source, PassKit)
Remember, digital isn't king – the customer is
All of this sounds very exciting, but you must always remember to bring it back to the customer. Have a clear strategy about how your customer would benefit from a digital wallet solution.
Digital is an enabler for you to continue the conversation, however not all customers are equal. Not all customers want a digital card – you need to be where your customers are and ensure you focus on and cater for these customer groups. McDonald's were recently slated in the press for discontinuing their paper-based loyalty cards. Disgruntled customers felt as though their needs and wants were of less importance to the brand than those who are digitally active.
As we've said before, it's not technology first, but customer first!
Summary
Use of smartphones and digital wallets continue to rise – at an increasingly fast pace. Today's customers are seeking connected experiences. They want personalisation and convenience.
Digital wallets enable brands to harness data in such a way to help them deliver personalised and timely offers to their customers. They also provide powerful ways to drive both customer loyalty and sales.
Think about how your brand can take advantage of mobile as a channel to market and target your customers. But remember to always bring it back to the customer – how/will your digital offering benefit them?
Customology are specialists in customer lifecycle management. Contact a Customologist today on 07 3902 7700 or hi@customology.com.au to find out how we can design and build a digital solution to enhance your customer experience, and help you create customers for life.  
Subscribe to receive our latest insights
¹ Apple Insider
² Android Authority
³ Urban Airship
Listen to...