30 Jul

CASE STUDY: Bridgestone Australia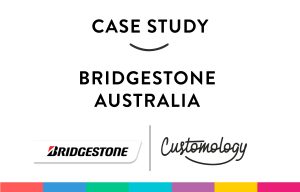 THE CHALLENGE:
Bridgestone Australia wanted to grow customer retention and spend in their retail store network by redesigning their customer 'Tyre Maintenance Program'. Their existing program contacted customers via direct mail, advising them to visit a store for a tyre check. Appointments were generally made via phone or store drop-ins. There were limited targeted communications with the customer to keep them engaged during the long cycle of purchasing new tyres.
The program had significant improvement potential. Bridgestone Australia sought to ensure they remain front of mind for customers when repurchasing new tyres, alongside increasing customer lifetime value through additional product sales.
THE SOLUTION:
Working with Customology, the strategy was developed to create a communications program which targeted the right customer, at the right time, across the communication channel of their choice, based on each customer's behaviour.
The deliverables included:
Customer data review and an assessment of existing customer communications and engagement.
Integrating POS data from 300+ stores across Australia to create a single customer view.
Strategic design thinking on how to market the program to engage Bridgestone Australia's customers. Renaming the program to 'Bridgestone benefits'.
Implementing a marketing automation program, driven by member behaviours and relevancy with the objective to maintain the relationship between the customer and the Bridgestone brand, throughout the long tyre repurchase cycle.
Implementation of an online booking form integrated with stores POS, allowing customers to book an appointment at their preferred date and time.
Development and distribution of a suite of interactive dashboard reports to head office, regional offices and franchisees – enabling data visibility and access to track performance of regions, stores, products and campaigns.
Development of a 'Voice of Customer' Program, designed to establish customer insight at different points in the purchase cycle, including post purchase and lost lead behaviours, customer satisfaction and Net Promoter Score (NPS).
Campaign integration with a third party product review provider to improve the quantity and quality of reviews provided by their customers.
Ongoing management of the membership services – to manage members, enquiries and data enrichment.
THE IMPACT:
On average, Bridgestone benefits is achieving 77% membership growth each year.
The program increased customer retention by 30%.
85% of customers who made a qualifying transaction are on the program.
Bridgestone benefits members come into stores 30% more than non members.
Each member spends on average 16% more than a non member.
Bridgestone Australia currently has an 'excellent' 5/5 rating on Trustpilot.
Independent consumer comparison and review website,
Canstar Blue ranked Bridgestone Australia as joint first in it's 2018 'Most Satisfied Customers – Car Servicing Category' with the Bridgestone benefits as a leading value add for customers.
Bridgestone benefits is a finalist in the 2019 Global Loyalty Magazine Awards.
Listen to...