18 Feb

How to get your customers to spend more with your brand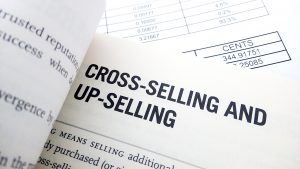 It's a known fact that it costs a lot less to keep an existing customer happy than it does to acquire a new customer. Customer retention is fundamental to growth and whilst it's fantastic having a loyal customer base, it's even more fantastic when they start spending more with your brand.
This is where up-selling and cross selling comes in. There are multiple benefits in up-selling and cross-selling to your customers. In doing so, you increase their average transaction value, which results in a higher customer lifetime value. You also get to know and understand your customers better. Their purchases reveal a lot about who they are, and the more you know, the higher chance you have of influencing what they do next.
What is up-selling and cross-selling?
Up-selling is the practice of encouraging/giving customers the option to purchase a product or service which is of higher value than the one they are thinking of buying.
Example: An example which we can all relate to. A trip to a McDonald's. You're at the checkout and you've been asked if you would like to 'super-size' your meal, for an extra $4.
Cross-selling is the practice of inviting customers to purchase related or complementary products or services.
Example: Apple sells a new iPhone to a customer, they ask if they would like to purchase a new phone case or a pair of Apple air pods.
Either way – the brand benefits as the customer will be spending more with them than they originally planned. Plus the customer is happy as they are walking away with additional products they can use.
Amazon is brilliant at up-selling their products. How many times have you gone to make a simple purchase, and at the bottom of the page, it says 'other customers also bought xxx'. Before you know it you're browsing products you hadn't even thought about before. They also offer great product bundles – purchase X + X + X and save $X. The customer believes they are getting a great deal.
How to win at up-selling and cross-selling
Make it easy for your frontline staff
There's nothing worse than being pushed or pressured into purchasing something that you don't want. It's vital that you train your staff in how to effectively up-sell to your customers. We understand that particularly in sales there will be KPIs to meet. However, if customers feel bullied or pushed into doing something they don't want to. They won't be back, and it's likely their friends and family won't be back too. Think of the potential impact on your brand.
You shouldn't rely solely on your staff to win an up-sell. It's your job as a marketer to make it easier for them. Personalised and targeted communications help bring your customer back in store who are ready to buy and more likely to be influenced by a cross or up-sell. 
Educate and support your frontline staff. Ensure they are aware of the various initiatives that are taking place behind the scenes and what your marketing communications strategy looks like. 
Understand your customers to offer the right up-sell
Many get up-selling wrong. Brands who don't recognise their customers and simply offer the same incentive to everyone will not succeed. 
Customology supports brands by conducting a Customer Growth Analysis, which is a deep analysis of customer transactional data. This analysis reveals key purchasing behavioural patterns and customer segmentation groups across the entire customer lifecycle. These insights identify how and where brands should be focusing their marketing efforts, and the different messages to activate the path to re-purchase.
Enhance your marketing communications
Customers are not all equal, one size does not fit all. Your customer communications should be tailored and personalised to each individual customer. 
Please don't send a feedback survey or a generic discount as your first point of contact. Instead, send them an email that relates to their purchase. Ask them if they need any support, and take this opportunity to promote complementary products/services. Show them additional products customers have purchased when purchasing the same product/service that they have. Offer a targeted incentive which helps move them along the path to re-purchase. Attach a unique code for the customer to use so you can track what they do next, and if the up-sell/cross-sell was successful.
Summary
An up-sell should always be offered, but not forced. Up-selling and cross-selling help you to grow your customer lifetime value dramatically. Rather than focusing on winning new customers, you have the opportunity to make your existing customers more profitable to your business.
Customology are specialists in customer lifecycle management. Contact a Customologist today on 1300 264 549 or hi@customology.com.au to find out more about our Customer Growth Analysis and how we can help you increase ATV and influence your customers future behaviours.
Subscribe to receive our latest insights
Listen to...