26 Jun

3 ways to remove your competitors from the decision making process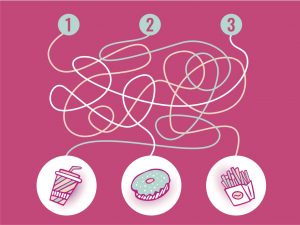 Competition is tough. With restrictions being lifted and more choices now available to your customers – the competition is only getting tougher. How do you stand out from the crowd? How do you ensure that your customers choose you? Let's take it one step further and eliminate the competition entirely from the decision making process.
These are the types of questions pretty much every brand is asking themselves. More than ever, it's important that you are investing your time and money into strategies and tactics that will guarantee return, to help your brand grow sales.
Customology are customer lifecycle specialists. We create customers for life, helping brands grow by understanding their customers and keep them coming back. Here are 3 ways that we help brands eliminate their competition before the customer has even begun the decision making process.
1. Leverage the customer data you have
We cannot stress this one enough. Data is powerful, and in it customers are revealing so much about themselves. They're already telling you how much they want to spend with your brand and on what products/services. Listen to them. Analyse the customer data you have to understand who your customers are. It's all there; what, where, when and how they buy from you, and how much they spend. You already have all the information you need to anticipate future behaviours, and more importantly influence them. For example, you know that customer 'Suzy Smith' buys a particular smoothie on a Wednesday. Offer Suzy a lunch special for that day with her smoothie purchase. Influence what decision Suzy makes that day for her lunch.  Take your competitors out of her decision making process. She will walk across the food court ignoring all the other lunch options. 
2. Put in the effort to remain front of mind
This is when brand equity comes into play. When your customer has a need that you can fill – you want your brand to be the first that springs to mind. For example: coffee = The Coffee Club, new sneakers = Rebel, new tyres = Bridgestone. You get the idea. Try a little exercise and determine which brands come front of mind for you (and why). Think like a customer.
Top of Mind Awareness (TOMA) is extremely powerful – it's the ultimate goal for any marketer. As the saying goes – out of sight, out of mind. We're not telling you to bombard your customers with emails every day of the week. That will only annoy them and lead to an unsubscribe. 
You can, however, play it very strategically about how often you contact your customers and why. Our number one piece of advice is to only contact them when you have something relevant to say – relevant to them, not your brand. As mentioned above, timing is everything.
Many brands have long purchase cycles. These brands need to introduce programs which give them a relevant reason to contact and connect with their customers. Reminding them of the brand. 
We've referenced the US mattress brand, Casper in a previous article. They keep their customers engaged with their snoozeletter and blog which is all sleep focused content. They have a chat box for insomniacs. Earlier this year, they launched 'snoozefest'¹ which features sleep tips, meditation, music and more. They've built an online community aptly named 'our sleepy followers' with customers sharing pictures of loved ones fast asleep or looking snug in Casper bedding. They supported New York during the heart of the pandemic by donating 5000 bed sheets to hospitals across the city. Check them out, you'll learn that all of their content adds value to their customers – some who may not be in a position to buy a mattress for many years – however they're ensuring that when the time comes – Casper is the brand top of their mind.
3. Practice effective targeting and personalisation
A mistake many brands make is thinking that their customers actually care what they have to say – that's why you must invest in a highly targeted and personalised approach. Too many brands send blast emails to all their customers and just wait and see how many sales it returns. This may generate some short-term sales, but it certainly isn't generating customers for life. 
A restaurant, for example, could contact a customer to let them know what booking slots are still available for Friday night and what specials are on that night. Get their mouth watering – all they need to do is click a button to book a table. They may not even have thought about dinner on Friday night – you've done the deciding for them. Geo-targeting is becoming more popular. Using customer data, brands are sending messages to customers mobiles when they are within a certain radius of the store/restaurant – broadcasting a special offer or new menu item, enticing the customer in.
Be proactive, don't wait for customers to come to you. If a previously loyal customer hasn't visited you for a while, give them a call. Let them know of a new product/service you've recently launched and to say thank you for their custom you'd like to offer a special promotion, that you'd love to see them come back. Show them they are valued.
Finally, make it easy for your customers. There's a reason that Amazon is one of the world's leading brands. They make it SO easy for their customers. From their highly personalised 'we thought you may be interested in' categories to one-click purchases to basket reminder emails to recommended products shared via email. Customers are time poor, they expect things to be easy. So make it easy. McDonalds are another great example here – the infamous 'do you want fries with that?' – who says no to that, not many people. They're upselling AND making it easy for the customer.
Contact a Customologist today to learn how we can help you eliminate your competitors from the decision making process. We can help you to make sense of your customer data, and can help you put your customers on a path to repurchase from your brand. Contact hi@customology.com.au or 1300 264 549.
¹ https://casper.com/learn/sleep-resources/
Listen to...